276 total views, 2 views today
Okatakyie Afrifa, the host of 'Abranaa So' on TV XYZ has heavily descended on a member of the New Patriotic Party Communications team, Hopeson Adorye for defending the expensive travels of the President Akufo-Addo.
Hopeson, while speaking on Adom TV on Friday mentioned that it's only the uncivilized who will criticize the expensive travels of the President, Nana Addo. He added that it's never true the President baths in the private jet he uses for travels.
Reports say, that the private jet of the President costs the country 14,000 USD per hour and so there have been a lot of concerns by Ghanaians on that jet.
While Okatakyie Afrifa was speaking on his show on Saturday, March 5, 2022, he mentioned that Hopeson exhibited clear ignorance on the show because he didn't even know some private jets have bathrooms and a kitchen.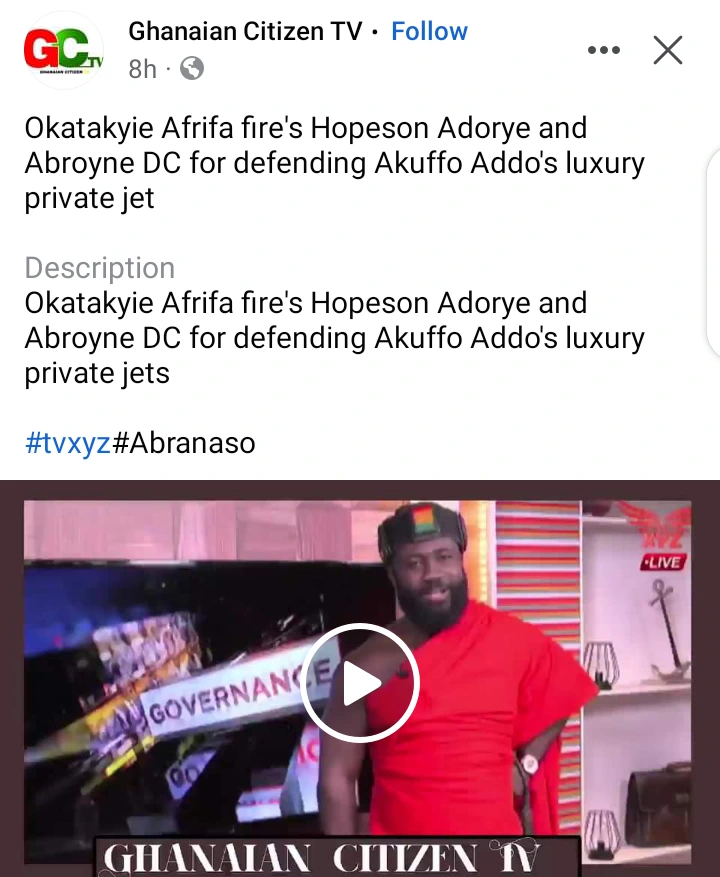 " Just look at this. He's just a shame. Pure shame. You can see he's so ignorant to the extent that he doesn't know some private jets have kitchens and bathrooms. My goodness. So why will journalists entertain someone like Hopeson on their show claiming he's a representative of the NPP." Okayakyie Afrifa said.
source:  Obeng_News
FOLLOW ME ON SOCIAL MEDIA