162 total views, 1 views today
" Anytime you're angry, try and control it. Your anger could hire you to do many crazy stuffs which you could regret. While hired by anger, it leaves you to reality after you fall into trouble". Amos Kwabena Obeng Tawiah Popularly known as Nana Obengfo told Takoradi based Sky Power FM in an interview.
He continued by mentioning strange names of his spiritual lesser gods that led him into the act as he pleaded for forgiveness;
" I was controlled and hired by anger to kill Kennedy Agyapong from this world. With the help of "Obengfo Bosomkese" and "Kunomame", I succeeded in making Kennedy Agyapong involve in an Accident." Nana Obeng Tawiah added.
" I wasn't satisfied. I Wanted him to die than getting in a slight accident. That made me pour libation on his photo in Rituals. No matter how I tried, I couldn't succeed.
In the night, some Angels Came to warn me in a dream that Kennedy Agyapong is among some 25 people in Ghana whom nobody can kill. I saw Reverend Obofour, Dr Kwaku Oteng, and many other people on that list.
Due to this, I've decided not to worship my gods again. I'm here to burn them because they disappointed me in Killing Kennedy Agyapong." Nana Obeng continued his narration.
"Kennedy Agyapong should find a way and forgive me because I'm a repented man. He accused me on his Net 2 Television for helping a pastor with charms. He also accused me of aiding in a rape incident and swinglifestyle innocent people. That was what pushed and hired my mentality to eliminate him. However I've stopped everything. I'm sorry for causing your Accident" Nana Obeng Tawiah ended his Interview with Sky Power FM.
This is how the radio station captioned his words as published on their site after the interview.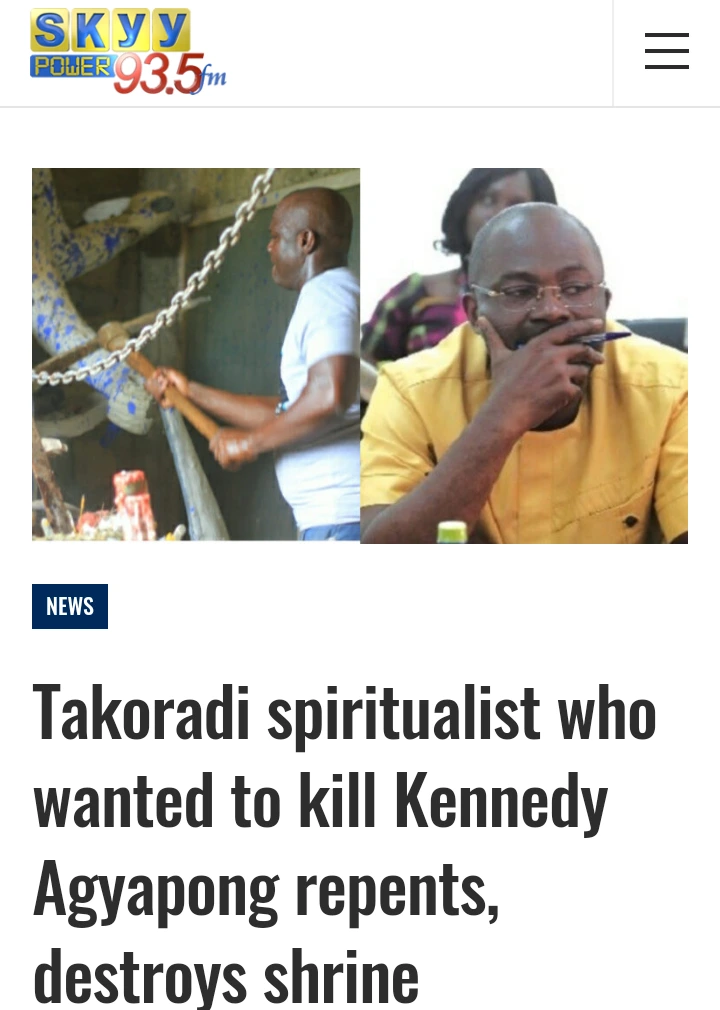 FOLLOW ME ON SOCIAL MEDIA