95 total views, 1 views today
The Member of Parliament for Ajumako-Enyan-Esiam Constituency on the ticket of the National Democratic Congress (NDC), Hon Cassiel Ato Forson has on 3rd September 2021 sent a strong warning to The Harald Newspaper. Looking at the front page of The Herald Newspaper below, they have written a story about Hon Cassiel Ato Forson and Member of Parliament for Tamale South Constituency, Hon Haruna Iddrisu.
The story has provoked the MP so much that he has sent a strong warning to the News firm. According to Ato Forson, the allegation in this newspaper is a defamatory story, meaning there is no evidence backing this story. According to The Herald Newspaper, a Civil Society Organisation (CSO) in Ghana has named the Minority Leader In Parliament and Cassiel Ato Forson in the Ghana National Petroleum Corporation (GNPC) bribery scandal.
This bribery scandal happened in November 2014 under the watch of former President John Dramani Mahama. The then Minority Members in Parliament, New Patriotic Party (NPP) called for an investigation into how GNPC acquired a loan of $700 million from the Deutsche Bank of Germany. This loan was supposed to be paid within 5 years. The name that came up in this bribery scandal was the GNPC Boss at the time, Mr Alex Mould.
Hon Cassiel Ato Forson and Hon Haruna Iddrisu names never came up in this scandal until this allegation from The Herald Newspaper yesterday.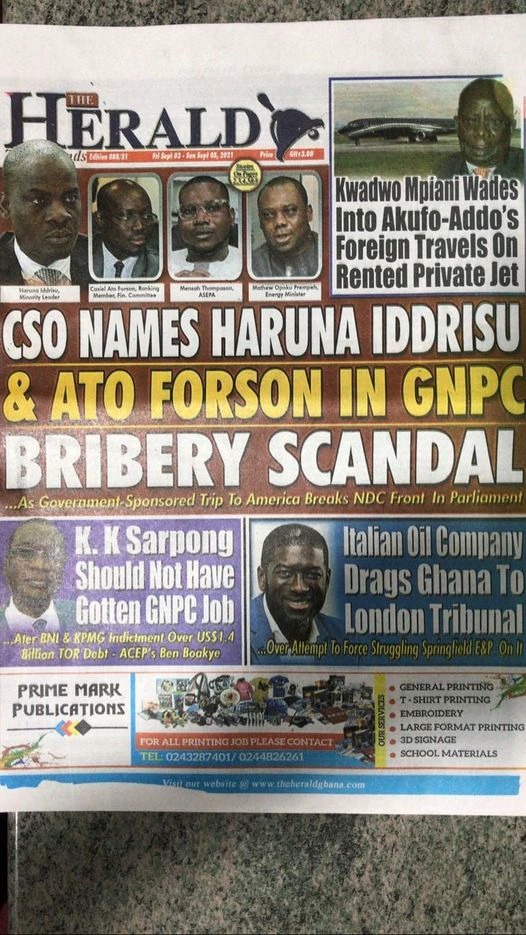 The MP has therefore used his official Facebook account to send a strong warning that he has not facilitated any meeting with a Civil Society Organisation (CSO) or the GNPC. He has no idea what they are talking about. In view of that, he gives them one day to retract this story and apologize or they shall meet him in court to answer where they get this information from.
This is what he wrote on Facebook:
"Please, disregard this defamatory story about me. I have never facilitated any meetings between the parties. Publishers have 24 hours to retract and apologise, giving it the same prominence they gave the original story, failing which, I will drag them to court! Thank You".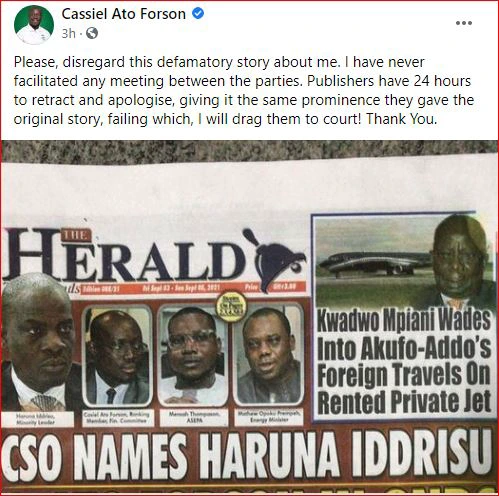 FOLLOW ME ON SOCIAL MEDIA