378 total views, 2 views today
The Head of Programs at the Despite Media Group, Afia Pokua and popularly known as Vim Lady is one of few Ghanaian Journalists who can boldly speak to issues and criticize where necessary.
Vim Lady has descended on Ghanaians calling for a coup in the country as a result of so-called economic difficulties in the country. It is not clear who the intended recipient of the message on his Twitter page is but some netizens are of the view that, "Fixthecountry" convener, Oliver -Barker Vormawor is the target.
The US-based Constitutional Lawyer has been an ardent critic of the current administration even though he has indicated in times past that his criticisms are not only towards the Nana Addo administration but to all past administrations that in his opinion, has failed to develop the country to the level it so ought to be.
His latest critique of the government was directed at efforts to pass the electronic levy which has become so contentious in Parliament as well as the public domain.
" If this E-levy passes after this cake bullshit, I will do the coup myself. Useless Army!" he wrote on his Facebook wall. Interestingly, the post was met with mixed reactions from the public and whilst others found it distasteful and even called for his arrest, others expressed supported him. He subsequently clarified he meant "coup" in its legal definition.
He was subsequently arrested on Friday night after he arrived in Ghana about the Facebook post and is currently being arraigned before Court tomorrow.
Afia Pokua, who appears to have been incensed by the post and the after events also took to her Twitter handle and wrote; "Look around, which modern or advanced country entertains COUPS? Even under their bad leadership, they wait to vote out that government. Instead of shouting COUP, the youth must come together, form the next government and give us better leadership and stop the John tins"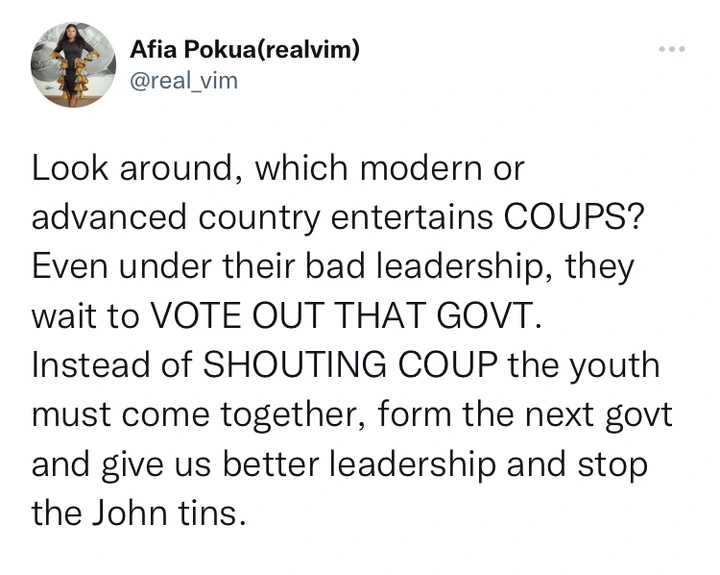 source:  Cityzen_Vigilante
FOLLOW ME ON SOCIAL MEDIA