125 total views, 1 views today
The bribery allegations attached to the job of the Ghana Police Service have been discussed for many years. The hierarchy of the Police Service has condemned the act and in some instances denied that their men are engaged in bribery. Some of the officers who have been caught in the act have been made to face the laws. Drivers in particular are the worse culprits.
At every barrier they get to, a token would have to be allegedly paid before they would be allowed to continue their journey. Just as we are discussing how to stop the act, a police female officer has fallen into huge trouble. She is currently in a fix on whether to return a GHC 200 she took from a driver or forget about her phone.
The name of this particular police officer is currently unknown but reports indicate that a young man allegedly encountered her at the Sogakope police barrier where she demanded an amount of GHC 200 from the driver for refusing to wear his seat belt. Several pleas to convince her to rescind her decision proved futile until the driver paid the money. As she sat in the vehicle for the money, she, unfortunately, left her iPhone in the car and the driver is currently being called to bring back the phone. What an interesting spectacle. Now the tables have turned and the policewoman is pleading with the driver to return her phone. But as usual, social media has been advising the young driver on what to do next.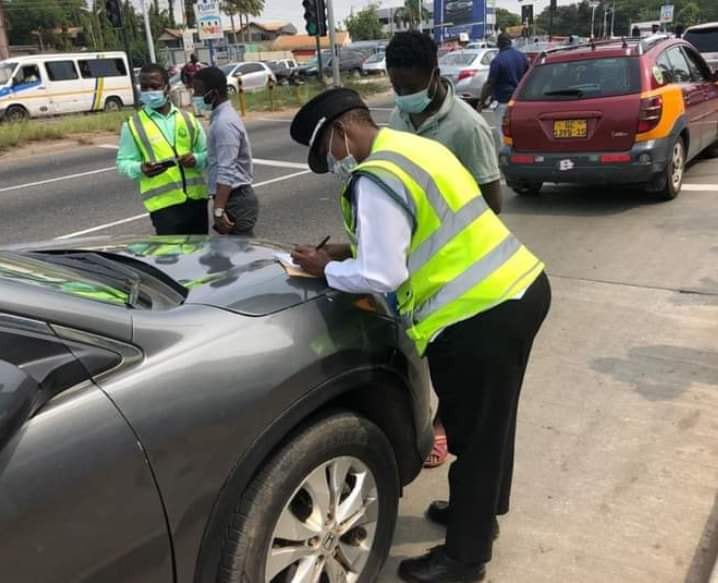 From the write-up, the Policewoman has placed several calls apologizing for her actions and wanted her mobile phone back. But if the narration of the young man is true, then the solution is simple. The policewoman must quickly send back the GHC 200 bribe she took from the driver and the phone can simply be sent back to her. The young man on the other hand can also decide to forget about everything and bring back the phone to shame the police officer. Both the driver and the police officer have offended the law and could be punished accordingly.
We cannot independently confirm the story narrated by the young man since the Police have not responded to tell their side or otherwise, but we still maintain that it is wrong for any police officer to accept a bribe from a driver. In the same circumstance, it is wrong for a driver to also pay a bribe to a police officer. When drivers offend the laws, they must be made to face the accompanying punishment and not only pay bribes and go scot-free.
Source:Operanews.com
FOLLOW ME ON SOCIAL MEDIA