218 total views, 1 views today
Temporary staff who were recruited for the 2020 elections recently took to social media to register their displeasure over the commission's unfair treatment been meeted out to them.
It has become almost a norm for almost all state agencies to recruit temporary staff for their activities and it takes forever for these officials to get their monies paid to their respective accounts.
The electoral commission is no exception from the bracket of these state agencies. Officials of the 2020 elections over three months after their services were rendered to the state have not received their allowances.
This made them take to social media and other online platforms to exercise their displeasure over the commission's inability to pay their allowances three months after the conduction of the general elections.
The commission has however responded to this news item going rounds about the non-payment of their officials after the general elections.
According to the commission the it has already initiated the process of payment but encountered some challenges with respect to wrong account details that some officials gave the commission.
According to the commission,it is trying all means through its regional and district commissioners to get the anomalies rectified so that payment can
kick start as soon as possible.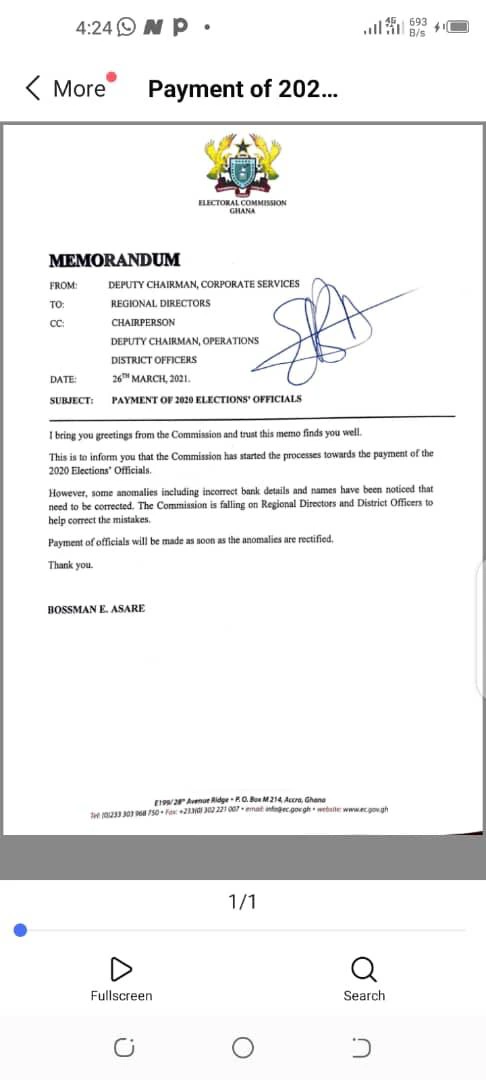 FOLLOW ME ON SOCIAL MEDIA