100 total views, 1 views today
A bunch of young males went famous on the internet after displaying guns and threatening people to flee. This morning on Angel Fm, the men in question appeared to explain themselves to the entire country. They merely went to a funeral, according to one of them, and presented the pump action rifle that belonged to his brother. They only fought those who threatened to kill them on their galamsey site, according to the main face of the issue, and received the guns in the process.
"Ghanaians, we are not armed robbers, so don't think of us as such." We are unable to go freely in town as a result of recent events because we are terrified of being attacked by people who have seen our photographs on the internet. My Facebook account has been taken over, and I am unable to access it to regain control. As a result of the struggle against galamsey in Ghana, we are currently unemployed. We learned that a Ghc 20,000 reward has been placed on our heads. I persuaded my brother that we should go to the police station and present ourselves so that we may win the money because we were broke.
The pump action gun is registered and belongs to one of their elder brothers, according to Obour Belling, who fired it during his grandmother's funeral at Tapo in the Northern area.
One of them made a comment on the video. 'Bad deeds make a person live longer,' he remarked. He explained to Angel Fm that he merely said it because "good people do not live long in society, but decent people die young."
During the live interview on Angel Fm, they were all wearing facemasks at first, then Kofi Adoma Nwanwanii urged the journalist to remove them so that they could be verified as the genuine persons in the viral video. "We invoked the curses because we have been greatly impacted by rumors that we were involved in the murder of Emmanuel Osei in the bullion truck, but the fact is that we were not. People are planning to assault us, putting our lives in jeopardy. We are not fleeing Ghana because we are blameless in this situation."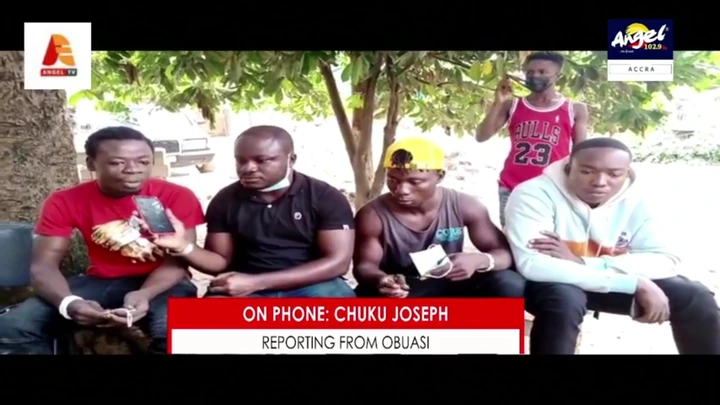 source: Accrablogger
FOLLOW ME ON SOCIAL MEDIA